Do You Want Your SaaS to Stop Dangling On Page 2+?
Let us help explain to Google that your precious content is not sh*t by using world-class link building
Ready to Take Your

SaaS From Google's Page 2+ Graveyard All The Way to the Top?
Before you even start with link building, you need to make sure the vital basics are dialed in.
Take your blog from Google's Page 2+ abyss and RANK HIGH FAST by using these 3 battle-tested tips that help to get results IMMEDIATELY!
Stop wasting time on Google's Page 2+ or worse – grab these 3 tips now!
Helping SaaS With Link Building & SEO for FREE
And Now...Let's Talk Results!
We know exactly what needs to be done to bring your content to the top because:
We do it all the time for our clients
We are out there on the frontline monitoring the world of SEO closely
I hope you don't trust me (just yet) because here are the case studies…
Client
Links
Traffic
Traffic Value
Duration
Cloud Cost SaaS Case Study

130+
48,700+ from <1000
$77,000+ from <$2500
14+ Months
Plutora
Value Stream Management SaaS
60+
53,000+ from 29,229
$86,000 from $47,900
6+ Months
PianoDreamers
Music Platform
120+
238,000+ from 80,646
$122,000+ from $58,500
12+ Months
SaaS Content Marketing Strategy for SEO
When it comes to content marketing for SaaS, SEO is a vital stepping stone for demand generation, ARR increase, and overall long-term growth.
Over the past 14 months, our team helped to grow a SaaS company from <1,000 all the way to 48,000+ unique monthly visitors by utilizing world-class link building.
That increase translates into $77,000+ monthly traffic value, which is the amount that SaaS would need to spend on ads in order to acquire what they are getting for free from organic search.
In this guide, I cover exactly what we did (and still do for the other clients) to achieve this result.
What is SaaS Content Marketing for SEO?
When you rely on search engine optimization for content marketing purposes, your goal is very simple:
Produce amazing content in a smart way (I'll cover that shortly)

Get other reputable, relevant sites to link to it so it starts ranking for the search terms (I'll also cover that)

Rinse and repeat
SaaS Content Marketing Challenges
The above content marketing strategy sounds pretty simple but…there are obviously few challenges:
Everybody produces amazing content
It takes a long time
Link building is a nightmare
Now let's get to the actionable part.
How Do You Write SaaS Content That Ranks...FAST?
I want you to rank fast, so we divide the entire SaaS content creation process into the following steps.
Now let's cover these aspects of content marketing strategy in more detail and then I'll give an example at the end.
When it comes to content marketing for SaaS, each of them, big or small, has a limited budget and time.
This is the stage where you'd plan what needs to be published first based on the following factors:
Your Business Goals
Content Funnel Stage (Awareness, Evaluation, Purchase…)
Any Other Factor (e.g. expertise on the subject, experienced writer availability etc)
Depending on where you are at in your SaaS content marketing strategy journey, you'll have different objectives and limitations.
Content Planning Example
Let's suppose that the business goal of my time-tracking SaaS is to increase the number of signups and I am already getting quite a few of them but I want my content strategy evolve around people that are in the Evaluation stage.
So when it comes to my marketing strategy, the type of content I'd be looking to create would be about comparison type keywords like:
For example:
Best Time Tracking App for Freelancers
Clockify vs Hubstaff
Clockify Review
However, it can also include an odd info-like article titled "How to Choose the Best Time Tracker"
Once you have an idea of the content topics you want your content marketing strategy to cover, it's time to do keyword research.
Naturally, it can have a big impact on what you want to publish first – keywords with less competition are easier to rank for but…they tend to have a lot less search volume.
One way or another, at some stage your blog posts will tackle every keyword, no matter how difficult or easy it is to rank for.
When it comes to keyword research tools, here are the two that I use and recommend:
Ahrefs. Which is a great solution for assessing keyword difficulty and getting keyword ideas.
SurferSEO. This tool has become invaluable for content clusterization (covering that below) and actual blog post creation.
Keyword Research Example
Back to my time tracking SaaS examples from before.
First, I want to run them through Ahrefs and check the keyword difficulty. Here is what I get:
"best time tracking app for freelancers" has a KD of 42 and 100 unique monthly searches
"clockify vs hubstaff" has a KD of 0 and 0-10 monthly searches
Before I pick between the two, I also like to check for the number of results Google serves for both of these keywords.
Let's see what we got here…
So it's:
1,960,000 results for "best time tracking app for freelancers"
38,600 results for "clockify vs hubstaff"
As you can imagine, it's far easier to rank for the 2nd keyword term because it has a much lower KD, and the amount of results that Google serves for it is minuscule!
IMPORTANT LIMITATIONS:
KD is the metric created by Ahrefs; while it's a good estimate of how competitive the keyword is, do not see it as anything reliable…just have it at the back of your mind when you analyze these things
Search Volume is also just an estimate; for example, Ahrefs shows that "clockify vs hubstaff" brings in 0-10 monthly searches but your article would have so many more other keywords you'd naturally rank for so this one page can have a significant impact on your growth…, especially in the long run
3. Content Clusterization
This part of the SaaS content marketing strategy is less known and underappreciated but…it's very powerful!
The idea is that, once you cluster the content pieces that are highly related to each other, it will far easier for you to outrank your competition because Google would see you as an authority in the field based on the amount of expertise you provided on that one subject.
If you think about it, it makes a lot of sense – you cover one single subject in immense detail using different angles, search intent, and examples…you almost automatically become the expert on the subject, and…
Google loves that!
There are two methods that I recommend using to cluster content and none of them is better than the other.
Method 1: Keyword-Based
This is when you'd have one specific keyword/phrase you want to rank for.
You'd then create all possible types of content using that same keyword in the title and link it all together.
The idea behind it is that Google, no matter how smart it is (it's not that smart really), still finds it hard to associate certain subjects together even though they are very close to each other.
This is why you have to use the same keyword/phrase throughout this cluster of blog posts so that Big G understands you are covering one specific topic.
The example I like giving is about seat cushions and office chairs.
One goes on top of the other, so, surely, they are almost identical for Google – the same cluster, right?
Not at all!
Seat cushions and office chairs belong to two different topic clusters and you should go all in for one of them before you touch the other.
Here is a real-life example from one of our SaaS clients:
As you can see, these guys produced 31 blog posts with the keyword "kubernetes" in the title.
When they had them all interlinked (and that's vital), they formed a cluster that Google can see and understand with ease.
The moment it's easy for Google, it's easy for you to rank…faster!
METHOD LIMITATIONS
You are stuck with using one keyword but Google is actually smarter than that
This is when the 2nd method comes in handy!
Method 2: TOOL-Based
This is when SurferSEO becomes handy as it analyzes how Google sees certain subjects grouped together and gives you recommendations based on that.
Let's get back to my time-tracking SaaS example.
Here is what it looks like when I give SurferSEO the seed keyword "best time tracking app for freelancers":
After a quick search, SurferSEO pulled together 62 clusters for the main topic.
The above screenshot shows 3 of them after they have been sorted by relevance.
As SurferSEO shows, Google sees the following topics to be highly related to the original keyword:
time tracking toggl

free time management app

does harvest take screenshots
As you can see, it also provides us with the keywords we didn't even think existed…not taking into account the fun fact that they are somehow related to our seed keyword!
The idea is the same – produce all that content and interlink it to form a bulletproof cluster that makes it easy for Google to rank you higher.
METHOD LIMITATIONS
This is just a tool and, even though the clusters created by SurferSEO are related to the main keyword, they can quickly stop being related to it as you go through them all.
Use your best judgment for picking highly-related topic ideas before you link them together and ALWAYS assume that Google is fairly dumb.
Now that you made a list of all possible topics you want (and can) cover, it's time to prioritize your writing schedule.
It would naturally depend on:
Your SaaS business goals (e.g. sell more, increase awareness, etc)

Customer journey (i.e. how quickly are they likely to sign up with you)

Target audience

Overall content strategy (i.e. do you only produce one blog post a week or more?)

Your Domain Rating (DR by Ahrefs; the higher it is, the easier it is for you to rank)
To me, it makes sense to first publish content that has the highest probability of bringing you sales.
The natural limitation of that is a lot more competition AND Google's eye on commercial content (that needs to be diluted with a hefty amount of purely informational content marketing blog post topics).
Producing content that ranks is a science of its own but, fortunately, SurferSEO helps with that big time.
I highly recommend this tool because it helps make your unique content shine as much as possible.
And if you think that Google is smart enough to "read" your text and understand that "it's amazing", you are delusional.
Keyword densities, content length, and other on-page SEO factors still matter a lot!
In fact, making on-page search engine optimization adjustments is THE quickest way to make tangible ranking gains!
Here is what content writing guidelines look like when you create content using SurferSEO:
It has a whole bunch of features but it's especially useful because of these two:
Content Score. An overall metric that allows you to quickly compare your content to what the other SaaS companies have put out there.

Keyword Occurrences. These are the variations of different keywords you need to take into account when creating content. The tool analyzes the similarities between the search results on top-ranking positions (you are free to choose them) that you should be aware of when producing content.
I can't underestimate just how quickly your rankings can improve once you have:
content of appropriate length (not too short/long)

correct keyword densities
SIDENOTE: Some time ago we had this one massive client (a publicly traded company) operating in the education niche.
We were building amazing quality backlinks for them (.edu and even .gov) but the page that accumulated them wasn't moving up and, instead, it was hiding on Page 2.
Obviously, it wasn't the links since they were the best one could get so…I went to SurferSEO to check what sort of content length Google was expecting for the keyword we were trying to rank for.
I wasn't surprised to discover that our client had ~1500 words in excess of what was ranking in Top-3 positions on Page 1.
The following day our client trimmed that piece, it skyrocketed to Page 1 and then, bit by bit, went all the way to the very top!
Don't ignore keyword densities and content length!
Outbound Outreach Content Marketing for SaaS
Once you start producing content that deserves to rank, it's time to move to the next stage of your SEO-based SaaS content marketing strategy – link building!
In fact, at some stage, your content marketing efforts would primarily evolve around content promotion because that's the only way to secure backlinks.
Here is how we do link building for content marketing purposes.
Now on to the details…
1. Planning the Easy Gains
A solid content marketing strategy should evolve around picking the easily achievable targets first.
You picking the right URLs to build links to is what makes the difference between quick fruitful results and a slow disappointing link-building run.
Here is how to pick your targets with ease:
Go to Ahrefs and plug your website's URL into the Site Explorer search bar

Go to the "Top Pages" report in the left sidebar

Pick the URLs that have a decent amount of Search Traffic and are ranking in Position 5+ for your main keyword

Your 2nd best target list is for the URLs that are on Google's Page 2 (positions 10-20)
Before starting to build links to those, make sure you are all set for the on-Page SEO (again, SurferSEO is your friend here).
Once that's all taken care of, it's time to proceed to the next step of your SaaS content marketing strategy – setting up an outreach machine!
2. Setting Up Outreach Machine
Link building for SaaS requires a lot of cold emailing as you'll be pitching your content left and right.
Besides that, your content marketing efforts need to look professional so that you have a higher chance of acquiring backlinks as you go.
To do this:
Purchase a separate domain that you will be using for outreach purposes (i.e. if your SaaS company runs on "domain.com", try getting "domain.net" or any other TLD)

Forward that new domain to your original domain; now every time someone would want to check out your SaaS company in more detail after receiving a cold email from your outreach-only domain, they will get to your primary website without an issue

Create a free account with Gmass and launch their Email Warmup tool as fast as possible; I set it to 40 Emails per Day Max and 100% Reply Rate (start the warmup with 2 emails per day with 2 emails per day increments)
SIDENOTE: I recommend you register with Google Workspace (the cheapest tier would do) and buy the domain from them as well because it's all set up for the outreach right away – SPF, DKIPM, and DMARC records are there by default.
SIDENOTE #2: The warm-up process takes a lot of time these days. In fact, it takes months to properly warm it all up so you can start sending the decent amount of emails per day. You can buy two separate domains and launch Gmass free warm-up tool on both of them so you'll have more outreach capacity in the future.
This is when SaaS content marketing active stage begins!
This is when you take your first URL and see what kind of prospects would be relevant to be pitched.
At LinksHero, we utilize two link building strategies:
Google search, where we basically find all the websites that are potentially interested in our content
Competitor search, where we try stealing all the competitors' backlinks
To find prospects for both of these, you first need a list with seed keywords, which, essentially, are the keywords that your blog posts mention.
So my "Clockify vs Hubstaff Comparison" article would have keywords like:
hubstaff review
clockify review
time tracking benefits
disadvantages of time tracking tools
The list goes on!
Besides that, you can always branch out to something that's relevant but doesn't necessarily include your seed keywords (e.g. freelancer productivity).
Once you have that list, it's time to start with Google and Ahrefs, which you can't live without here because you'll need to filter out anything that's of poor quality.
For content marketing we use the following characteristics:
DR40-70+. The higher the better, since it would help to get more from our content marketing efforts faster.
1000+ Traffic. An overwhelming (not all) amount of websites that get traffic are liked by Google so it's a good sign. We tend to avoid any website with a significant drop in traffic over the course of 1-2 years.
Relevant Pages. Ideally, we want the links to come from the pages that contain the keywords that our customers want to rank for themselves. Relevance is very important for any marketing strategy.
A trained prospector would filter out any unsuitable websites and organize them in a spreadsheet that would contain the following columns:
Competitor Name (for Competitor Search campaigns only)
Keyword (for Google Search campaigns only)
URL
Email
First Name (if available)
DR and Traffic are not required to be in the spreadsheet, since Ahrefs would help to filter these metrics before plugging them in the spreadsheet.
Here are some prospecting numbers that would help you estimate your content marketing performance:
A trained prospector finds 80-160 URLs per day, depending on whether they have tools available to them (e.g. email search)
Expect a conversion rate of 1% or less
So for 10 high-quality backlinks, expect to find 1000 prospects
As you can tell, prospecting is the most repetitive and boring part of SaaS content marketing but…it needs to be done!
Once you've been sending warm-up emails with Gmass for ~7 days, it's time to start the pitching process…slowly!
Before you go there, you need to create a template with 2 follow-ups that you will be using for pitching your content.
The pitch would depend on your target audience and the nature of the blog posts that you are promoting.
The most important bit that you should make clear from the start is what's in it for them.
Some websites accept monetary compensation but if you are pitching to the other SaaS companies, you'll most likely need to offer a link in return.
We use A-B-C link exchanges for this purpose and help our clients experience significant SERPs gains a lot faster as a result.
Check out me covering email outreach (including the template).
As you start sending emails, you will see the replies coming in.
We divide them into the following buckets:
Auto replies
Interested – Link Exchange
Interested – Good
Interested – Expensive
Bad Quality
There is nothing we can do with auto replies so the campaign is still going with the follow-ups.
Interested – Link Exchange. These are the other websites, usually, SaaS companies, that are happy to give us a link if…we give them a link in exchange!
Interested – Good. These are the websites that have the blog posts we are happy to get a link from and we can just pay for it.
Interested – Expensive. Good quality websites with far too expensive link placement terms (as we have the allocated budget for that work).
Bad Quality. Even though we do have a good few filters in place, some crappy websites still get through them. However, before anything goes live, they are all checked and this is when we take out the last bits of poor-quality websites.
The reply manager would then work with the link exchange opportunities and Interested – Good opportunities.
They would also try to negotiate with Interested – Expensive opportunities to see if we can bring the price down a little.
Here is what our link building reporting sheet looks like for a client: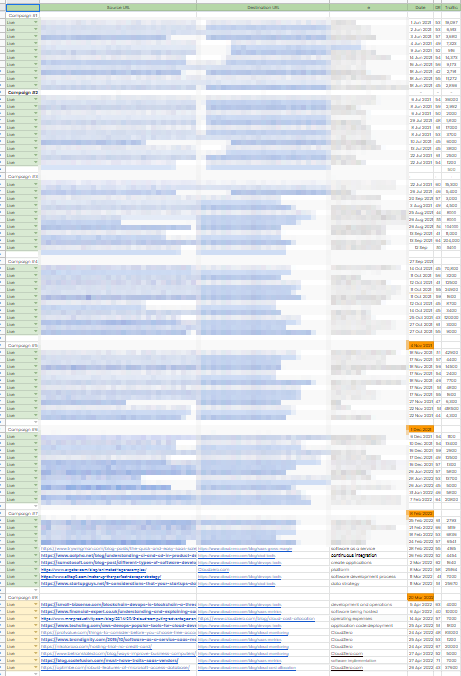 This bit represents 8 months of work with all the live links recorded in there.
Let Us Help You Escape Page 2+!
Your amazing content doesn't deserve NOT being seen – let's change that NOW!
Don't Postpone Escaping Google's Graveyard!